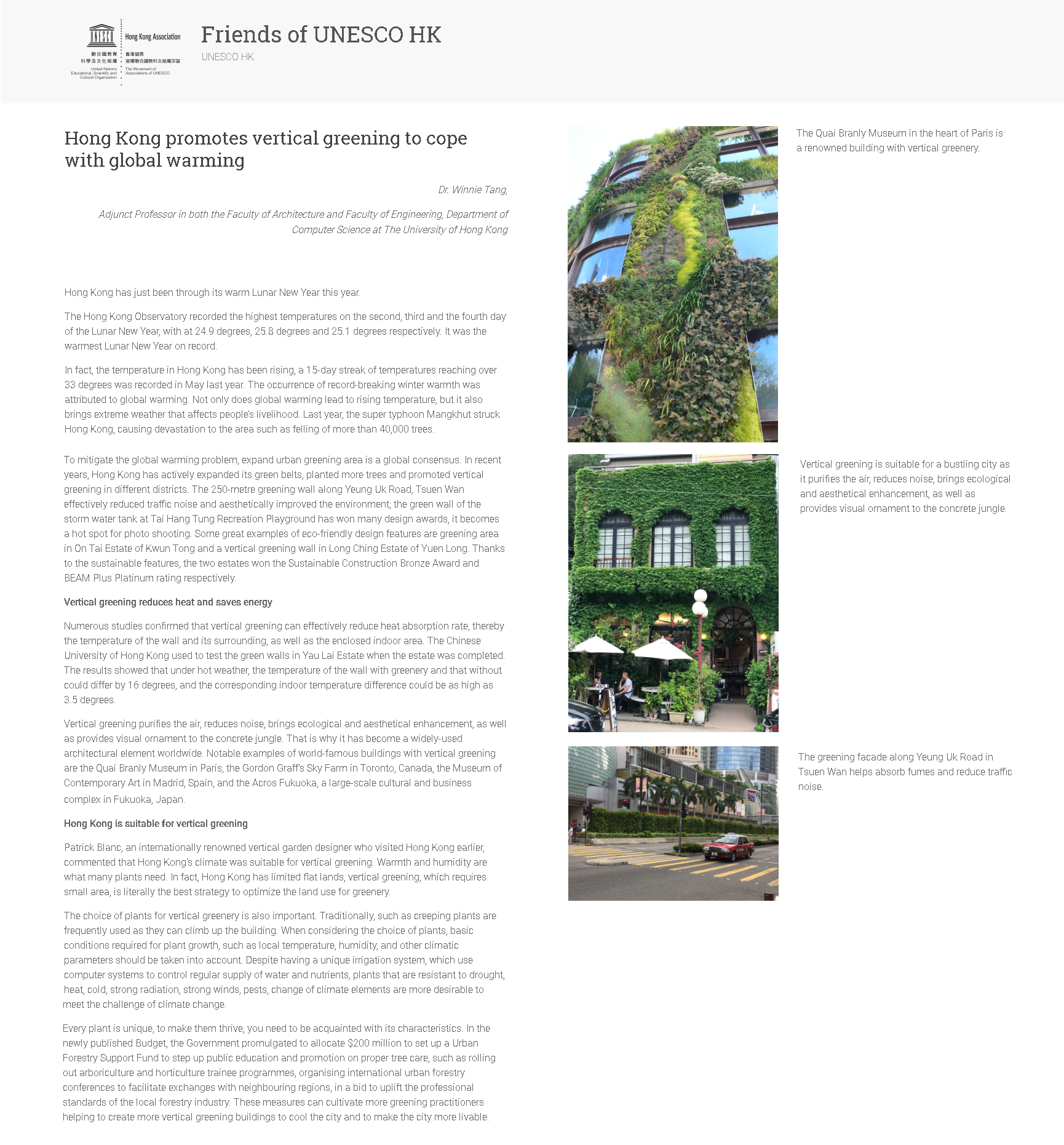 Hong Kong promotes vertical greening to cope with global warming
Hong Kong has just been through its warm Lunar New Year this year.
The Hong Kong Observatory recorded the highest temperatures on the second, third and the fourth day of the Lunar New Year, with at 24.9 degrees, 25.8 degrees and 25.1 degrees respectively. It was the warmest Lunar New Year on record.
In fact, the temperature in Hong Kong has been rising, a 15-day streak of temperatures reaching over 33 degrees was recorded in May last year. The occurrence of record-breaking winter warmth was attributed to global warming. Not only does global warming lead to rising temperature, but it also brings extreme weather that affects people's livelihood. Last year, the super typhoon Mangkhut struck Hong Kong, causing devastation to the area such as felling of more than 40,000 trees.
To mitigate the global warming problem, expand urban greening area is a global consensus. In recent years, Hong Kong has actively expanded its green belts, planted more trees and promoted vertical greening in different districts. The 250-metre greening wall along Yeung Uk Road, Tsuen Wan effectively reduced traffic noise and aesthetically improved the environment; the green wall of the storm water tank at Tai Hang Tung Recreation Playground has won many design awards, it becomes a hot spot for photo shooting. Some great examples of eco-friendly design features are greening area in On Tai Estate of Kwun Tong and a vertical greening wall in Long Ching Estate of Yuen Long. Thanks to the sustainable features, the two estates won the Sustainable Construction Bronze Award and BEAM Plus Platinum rating respectively.
Vertical greening reduces heat and saves energy
Numerous studies confirmed that vertical greening can effectively reduce heat absorption rate, thereby the temperature of the wall and its surrounding, as well as the enclosed indoor area. The Chinese University of Hong Kong used to test the green walls in Yau Lai Estate when the estate was completed. The results showed that under hot weather, the temperature of the wall with greenery and that without could differ by 16 degrees, and the corresponding indoor temperature difference could be as high as 3.5 degrees.
Vertical greening purifies the air, reduces noise, brings ecological and aesthetical enhancement, as well as provides visual ornament to the concrete jungle. That is why it has become a widely-used architectural element worldwide. Notable examples of world-famous buildings with vertical greening are the Quai Branly Museum in Paris, the Gordon Graff's Sky Farm in Toronto, Canada, the Museum of Contemporary Art in Madrid, Spain, and the Acros Fukuoka, a large-scale cultural and business complex in Fukuoka, Japan.
Hong Kong is suitable for vertical greening
Patrick Blanc, an internationally renowned vertical garden designer who visited Hong Kong earlier, commented that Hong Kong's climate was suitable for vertical greening. Warmth and humidity are what many plants need. In fact, Hong Kong has limited flat lands, vertical greening, which requires small area, is literally the best strategy to optimize the land use for greenery.
The choice of plants for vertical greenery is also important. Traditionally, such as creeping plants are frequently used as they can climb up the building. When considering the choice of plants, basic conditions required for plant growth, such as local temperature, humidity, and other climatic parameters should be taken into account. Despite having a unique irrigation system, which use computer systems to control regular supply of water and nutrients, plants that are resistant to drought, heat, cold, strong radiation, strong winds, pests, change of climate elements are more desirable to meet the challenge of climate change.
Every plant is unique, to make them thrive, you need to be acquainted with its characteristics. In the newly published Budget, the Government promulgated to allocate $200 million to set up a Urban Forestry Support Fund to step up public education and promotion on proper tree care, such as rolling out arboriculture and horticulture trainee programmes, organising international urban forestry conferences to facilitate exchanges with neighbouring regions, in a bid to uplift the professional standards of the local forestry industry. These measures can cultivate more greening practitioners helping to create more vertical greening buildings to cool the city and to make the city more livable.
Dr. Winnie Tang
Adjunct Professor, Department of Computer Science, Faculty of Engineering and Faculty of Architecture, The University of Hong Kong