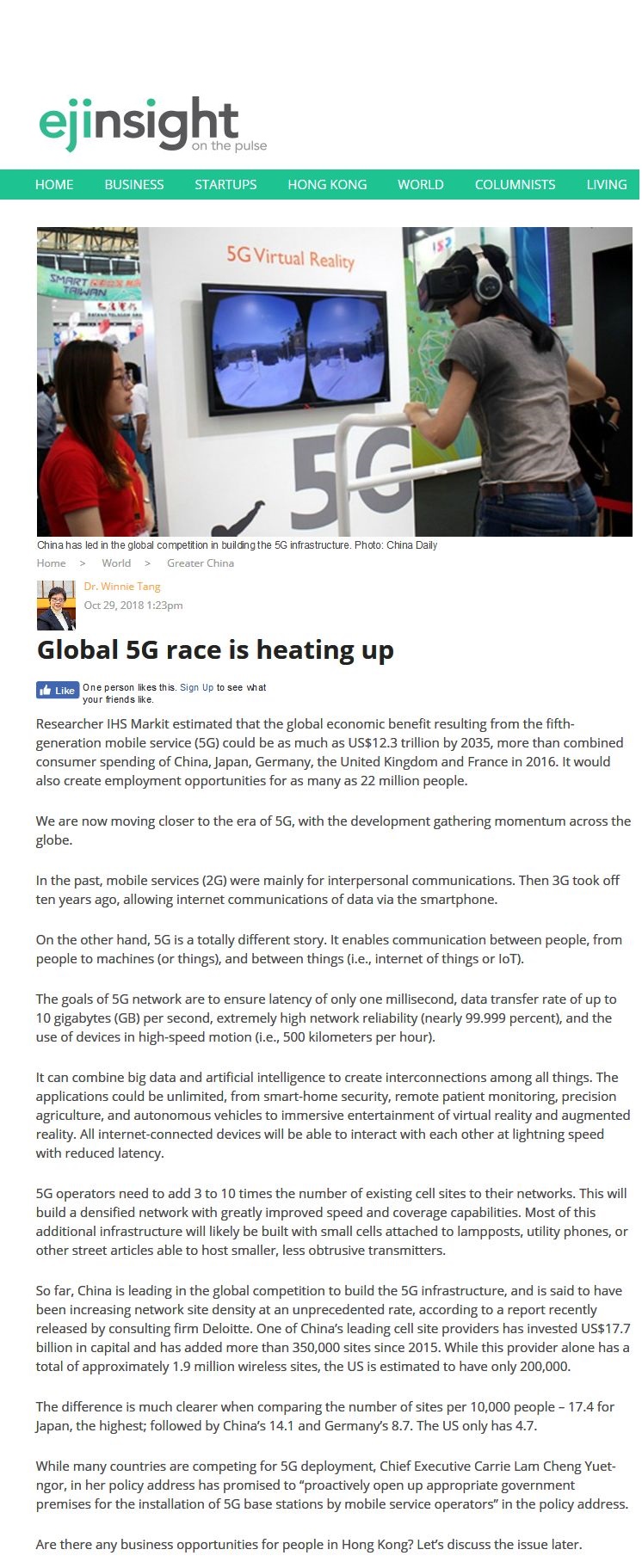 Global 5G race is heating up
Researcher IHS Markit estimated that the global economic benefit resulting from the fifth-generation mobile service (5G) could be as much as US$12.3 trillion by 2035, more than combined consumer spending of China, Japan, Germany, the United Kingdom and France in 2016. It would also create employment opportunities for as many as 22 million people.
We are now moving closer to the era of 5G, with the development gathering momentum across the globe.
In the past, mobile services (2G) were mainly for interpersonal communications. Then 3G took off ten years ago, allowing internet communications of data via the smartphone.
On the other hand, 5G is a totally different story. It enables communication between people, from people to machines (or things), and between things (i.e., internet of things or IoT).
The goals of 5G network are to ensure latency of only one millisecond, data transfer rate of up to 10 gigabytes (GB) per second, extremely high network reliability (nearly 99.999 percent), and the use of devices in high-speed motion (i.e., 500 kilometers per hour).
It can combine big data and artificial intelligence to create interconnections among all things. The applications could be unlimited, from smart-home security, remote patient monitoring, precision agriculture, and autonomous vehicles to immersive entertainment of virtual reality and augmented reality. All internet-connected devices will be able to interact with each other at lightning speed with reduced latency.
5G operators need to add 3 to 10 times the number of existing cell sites to their networks. This will build a densified network with greatly improved speed and coverage capabilities. Most of this additional infrastructure will likely be built with small cells attached to lampposts, utility phones, or other street articles able to host smaller, less obtrusive transmitters.
So far, China is leading in the global competition to build the 5G infrastructure, and is said to have been increasing network site density at an unprecedented rate, according to a report recently released by consulting firm Deloitte. One of China's leading cell site providers has invested US$17.7 billion in capital and has added more than 350,000 sites since 2015. While this provider alone has a total of approximately 1.9 million wireless sites, the US is estimated to have only 200,000.
The difference is much clearer when comparing the number of sites per 10,000 people – 17.4 for Japan, the highest; followed by China's 14.1 and Germany's 8.7. The US only has 4.7.
While many countries are competing for 5G deployment, Chief Executive Carrie Lam Cheng Yuet-ngor, in her policy address has promised to "proactively open up appropriate government premises for the installation of 5G base stations by mobile service operators" in the policy address.
Are there any business opportunities for people in Hong Kong? Let's discuss the issue later.
Dr. Winnie Tang
Honorary Professor, Department of Computer Science, The University of Hong Kong